Welcome to the RAMADAN INTENSIVE 1443H 2022
The Retreat organizes programing introducing attendees to the academic side of Islam in a community-based setting. It aims to develop a generation of educationally and ethically competent community activists by providing longitudinally progressive educational and mentorship opportunities by qualified and experienced instructors, Imams, scholars, community organizers, and activists.
We are currently holding our programs in-person onsite and have an online option for those who require it.
The Retreat's 1st Ramadan Intensive is a 2-Day program to prepare for a spiritually fulfilling Ramadan
Our first ever Ramadan Intensive will address the spiritual and educational concerns of Muslims in order to not only prepare them for Ramadan 1443H / 2022 but also provide a deeper look into some spiritual aspects that one can engage in and improve or perfect.
Topics to be covered:
Fiqh of Ramadan
Seeking Laylat al-Qadr
Good Sleep Habits
Qiyam al-Layl
The Inner Dimensions of Fasting
Reconnecting with the Quran
The Month of Giving
The Retreat's Intensives are for anyone serious about attaining the next level of gaining Islamic knowledge beyond usual community offerings, in an academic environment. High school, college, young professionals, and adults are all encouraged and welcome to participate.
When & where will it take place?
This year's Winter Intensive will take mainly take place ONSITE and we have an ONLINE option for those who cannot attend in person!
Saturday March 26 10:00am to 8:00pm
Sunday March 27 1:00pm to 8:00pm
Masjid Al-Salam
16700 Old Louetta Rd.
Spring, TX 77379
inshaAllah!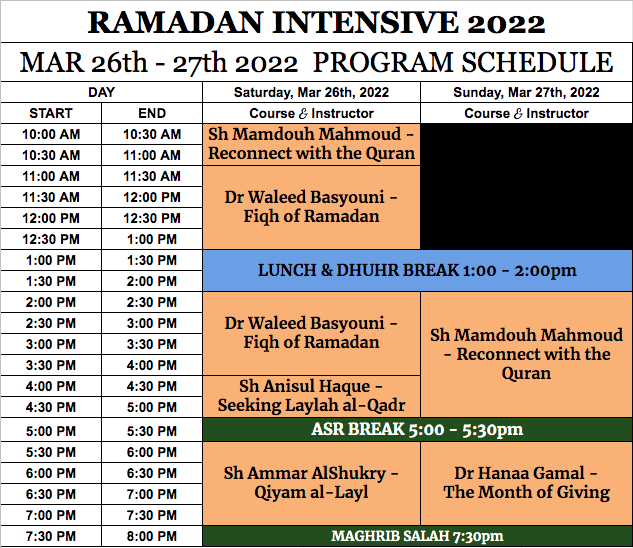 A notebook with pre-printed course notes from instructors will be provided, so bring any other note taking necessities: laptop, pens, as well as a re-useable water bottle & snacks.
financial Aid
We are committed to accommodating every student irrespective of their financial means. To apply for financial aid, please email info@dotheretreat.com to get an application.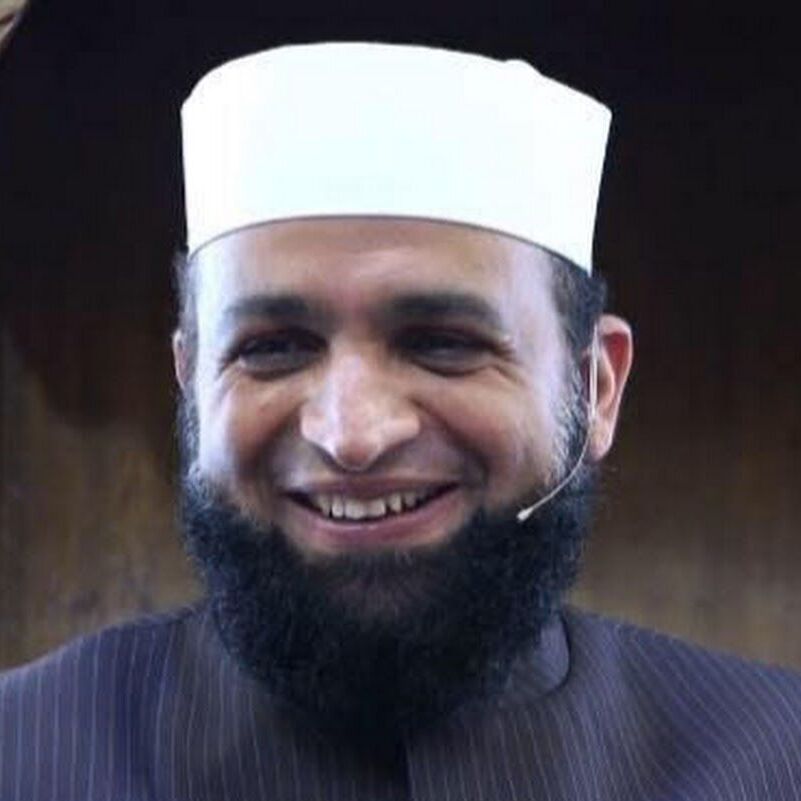 shaykh MAMDOUH MAHMOUD
Mamdouh Mahmoud graduated from Al-Azhar University in Cairo in 1994 with a B.A. in Islamic Studies and English Literature. He has studied extensively with various scholars, acquiring the knowledge and certification to teach diverse topics within the Islamic Sciences including fiqh, hadith, Arabic, and Qur'anic Studies, aqeedah, tafseer, morals, seerah, and family matters.
In his professional career, he has served as an imam of various mosques in Houston and Minneapolis. he also served as volunteer Muslim Chaplain and contract Imam with the Federal and State Prison Systems as well as the first Muslim chaplain working with pastoral care at UTMB-Galveston. He is currently serving as the Resident Imam and scholar since March 2017 where he directs all educational and religious activities and provides counseling and advice on matters of fiqh.
He is also a founding member of the Islamic University of Minnesota, the Islamic Jurisprudence Council of Minnesota (IJCM), the Quraa (Quran reciters) Association of America, and a member of the North American Imam Federation (NAIF).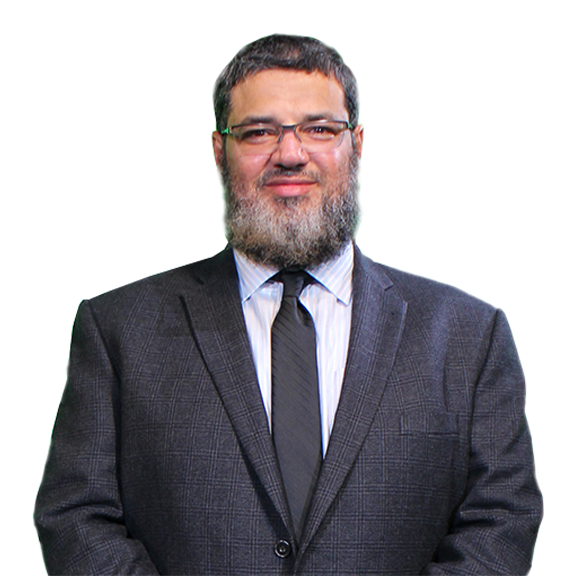 SHAYKH WALEED BASYOUNI
Shaykh Waleed Basyouni, PhD, is the Vice President of AlMaghrib Institute and Head of the Islamic Theology and Ethics Department. Students know him well for his sincere care for their well-being and progress in study.  He graduated with a Bachelor in Islamic Sciences from Al-Imam Muhammad University (KSA), did his Master's in Islamic Theology, World Religions and Modern Religious Sects from Al-Imam Muhammad University, and achieved a Doctorate in Theology from the Graduate Theological Foundation in Indiana.
Shaykh Waleed Basyouni has made numerous appearances in media around the world including CNN, Islam Channel, and Al-Huda Channel. He is an Imām, and active member of a number of Islamic organizations and Islamic Societies such as NAIF, and is a Director of the Texas Da'wah Convention. Shaykh Waleed also gives fatwa as a member of the American Muslim Jurists Association (AMJA).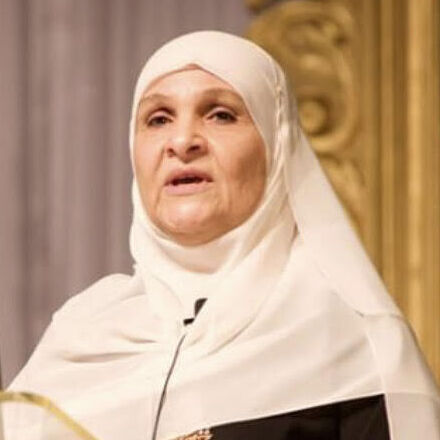 Dr. hanaa Gamal
Dr. Hanaa Gamal is a teacher of Tafsir and Quranic Sciences who completed her undergraduate studies from Al-Azhar University in Cairo as salutatorian of her class. She earned her master's degree from the American Open University in Islamic Sciences, and completed her Doctorate in Qur'anic Interpretation at Mishkah University.
She is the founder and an instructor of the Quran Quest Institute in Houston, Texas, which specializes in teaching Tafsir and Quranic sciences and tajweed, as well as provides various Hifz programs for women.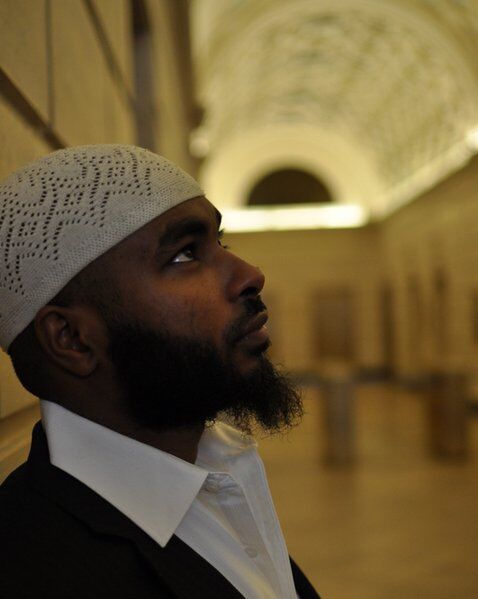 Shaykh Ammar Al-Shukry
Shaykh Ammar hails from Sudan via Queens, New York. It was in Sudan that Ammar began his studies in the Arabic language at an early age. After returning to New York he benefited from a local scholarship in a wide variety of Islamic Sciences. He continued his studies in Houston with renowned scholars such as Dr. Salah Al-Sawy, and completed an extensive study with Dr. Waleed Basyouni. He holds a Bachelor's Degree in Islamic Sciences with AlMaghrib Institute. He is the author of "What the Pen Wrote," Imam and Resident Scholar of River Oaks Islamic Center in Houston, and the Content Director for Faith Essentials and Faith.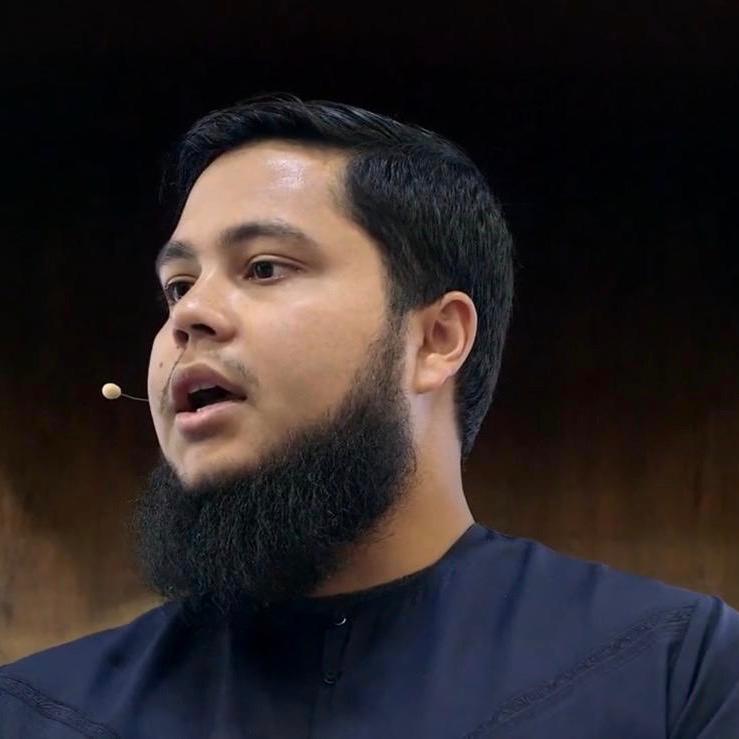 SHAYKH ANISUL HAQUE
Shaykh Anis was raised in Houston, Texas. He memorized the Quran at age 10, and by age 12 he led Taraweeh prayers for the next 16 years. He also taught the Quran at various masajid around Houston.  After graduating with a Bachelors in Management Information Systems from the College of Business at the University of Houston he went on to study at the Islamic University of Madinah, receiving a diploma in Arabic Language and a Bachelor's degree from the College of Shariah in Fiqh and Usool and ijazahs in various sciences from Masjid Al-Nabawi. After 6 years in Madinah he moved to KL, Malaysia where he taught at Seven Skies Islamic International School. He is currently living in Houston, TX and serves as the Program Enhancement Coordinator at Maryam Qur'an Academy.
The price to attend is $40 Early Bird until March 7th, regular $60/person.
REGISTER HERE